Greetings from Dyersville!
It's officially June and we're getting ready for the Summer Farm Toy Show. We've finally gotten some warm days, which makes the weeds want to grow up in the garden faster than I can hoe and pull them out. I've also discovered a slow leak in the right front tire of my lawn mower. Every time I want to mow I have to put air in it. You would think I should just take the time to take it off and get it fixed, but for some reason I haven't gotten that done, at least not yet. And, on top of that, someone stole the spare tire off of my truck. Trying to find a good used tire/rim has made me realize how valuable/expensive those spare tires are. Hopefully I'll have one soon and I won't worry so much about not having one. But, I do get to work with farm toys on a daily basis, so life isn't all bad!
Before we get into new product, we're continuing our series of introducing you to members of our team here in Dyersville that make all of this happen. This time we're highlighting one of our Senior Product Managers and one of our Brand Managers!
Hello to all Bill's Blog followers,
My name is Duane Fox, a Senior Product Manager on the Ag Team. I work on some OEM replica projects, but my primary focus is on the development of the toy product on the team. I have an Associate of Applied Science in Mechanical Technology and a Bachelor of Science in Business Management so that makes me 100% qualified to be a "toy geek" and I love every minute of it.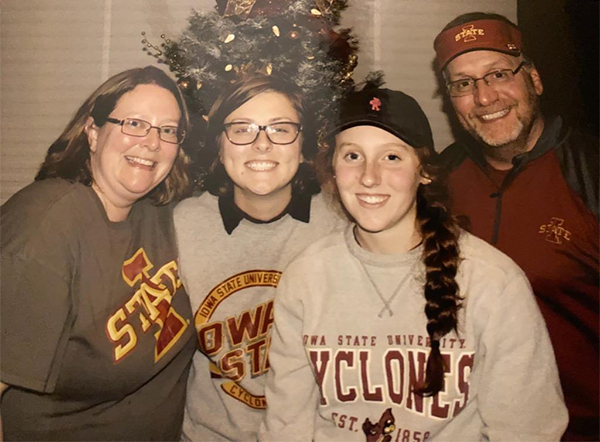 Unlike most team members, I am not an Iowa native, nor a Dyersville native. Yep, I am one of the "transplants" on the team. In July of 1994, my lovely wife Jana and I decided to make the great escape from Illinois and move to Iowa. That's when my historical career at The ERTL Company began. I started working as a project engineer on the ERTL Collectibles team where it was much more than just tractors. Let's just say I worked on planes, trains and automobiles. As things changed throughout the organization, I finally landed on the Ag team, working for the one, the only, Bill Walters.
Once settled in Dyersville, Jana and I decided to start a family. We have two wonderful daughters, Sydney and Taylor. Jana and I are now empty nesters so when not working, we just pick up and go. If there is a winery or a micro-brewery along our trek, we will stop!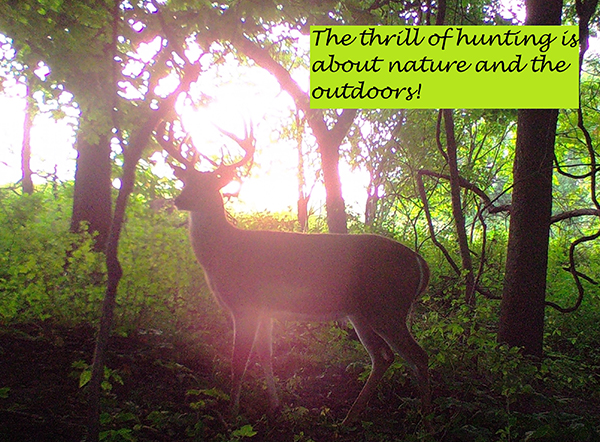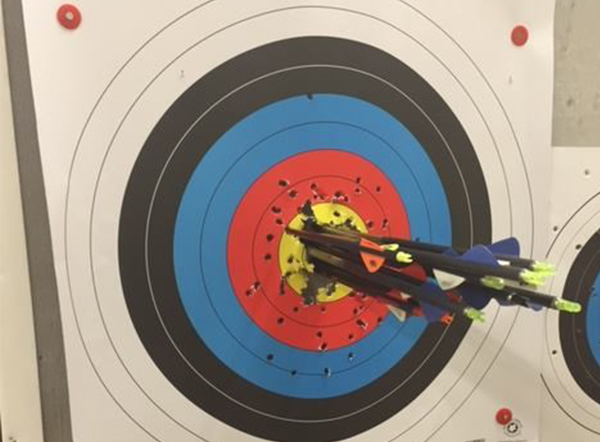 When we are not visiting wineries or micro-breweries with Jana, you can find me at Plum Creek Archery or perched in a tree strand, hunting the elusive whitetail during the fall. I guess you could say I have a passion for archery. Along with shooting target archery and hunting the elusive whitetail, I am a USA Archery certified instructor/coach. If you think toys and replica tractors create big smiles, you should see the smiles and reactions from kids and adults alike when they hit a bullseye! As an instructor/coach…..those smiles and reactions are priceless.
Well, that sums it up folks. Except one last thing……Go Cyclones!
Until next time,
Duane Fox
Hello everyone! I am Cheryl Reiter and am currently the Brand Manager for several categories in the replica side of our business including Big Farm, Core Toy, Riding and our Collect 'n Play Displays. I am lucky enough to choose product to develop and take it all the way to the shelf with the help of the exceptional engineers I work with.
I have been working at TOMY since February of 1988 – almost 34 years (whew). I started my career at ERTL as the nighttime switchboard operator. Since my hire I have worked in Human Resources, as a second assistant to Fred Ertl, Jr., the secretary of the graphics (working with Carolyn Danner-Walls who you met last month) as well as in Collectibles (our Custom and Premium side of the business.) Since moving into marketing in 1999, I have been a part of many product lines. They include Thomas the Tank, Wm. Britains soldiers, AMT, American Muscle, Johnny Lightning and John Deere Preschool. Needless to say, I have learned a lot!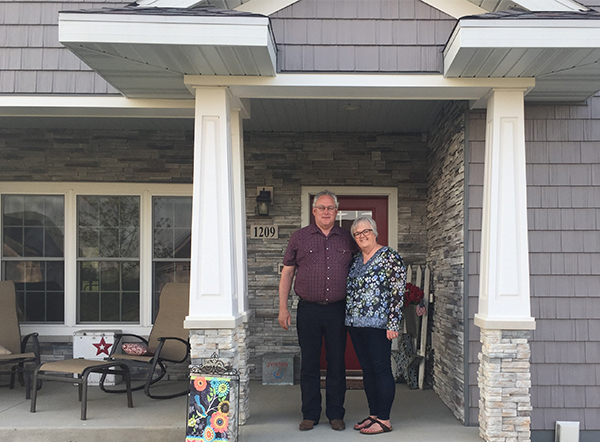 I have been married to my husband Chuck since February 1977. We are the proud parents of three sons, Tony, Kevin and Travis. We have one wonderful daughter-in-law Emily. Our grandson Arlo is our greatest joy! I can't forget to mention my furry grand-dogs – Duke and Rowdy!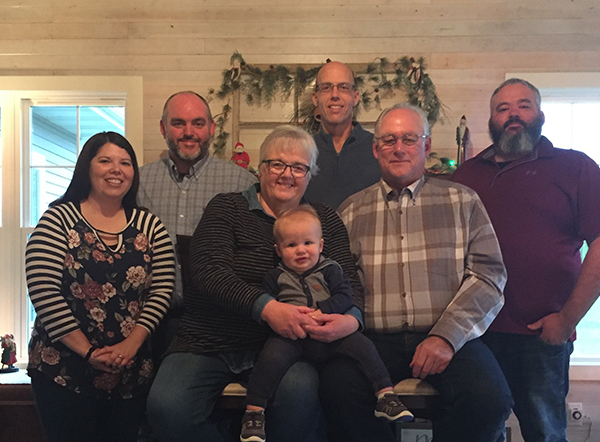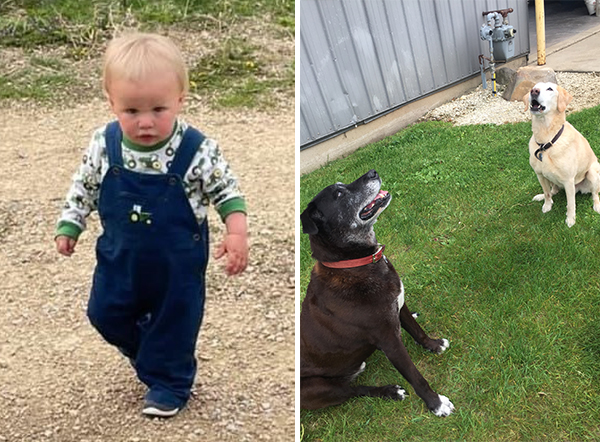 My husband and I own a trucking company which still involves one son. However, all four guys are leased to the same company and haul various fuels to local stations and airports. They all share the same shop and work together most days which is really nice. Peterbilt is their choice of vehicle and as part of my job, I get to develop over-the-road trucks. Needless to say when we did the Peterbilts I had great people to ask questions of!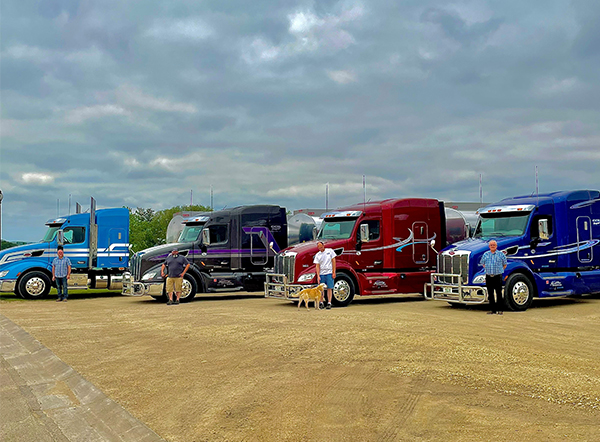 In June of 1970, my father-in-law purchased a brand new International 1026. It was sold at the farm sale December 1989. My son Kevin was able to purchase the tractor back on Christmas Eve 2020. Needless to say, it is very special to have this back in the family again.
I am a professed homebody, a fan of Food Network, HGTV, and Pinterest. I love to read, try new recipes and bake. My co-workers tell me I make the best chocolate chip cookies! Of course spending time with our grandson always makes the top of the list of things I love to do!
My thanks to everyone who purchases our products for their personal collection, their kids and their extended family as well as our retail partners for supporting our business as we enter the 76th year of ERTL.
In my last blog I told you we will have our display open for the Summer Farm Toy Show the first weekend in June. We have quite a few new items to show you, including all the farm show units. You might already know the John Deere units from the Facebook Live video, but here they are again. In 1:32nd scale we're featuring the John Deere 8R 410 wheeled tractor with front and rear duals (Stock # 45805OTP) This is the first 1:32nd wheeled 8R version and will have gold painted "chase" units. In 1:64th scale we're offering the tracked X9 1100 combine (Stock # 45761OTP). This is the first release of a tracked combine and will have silver painted "chase" units randomly inserted into the production run.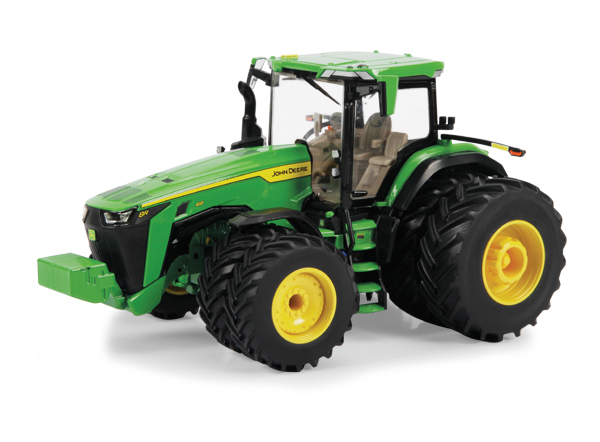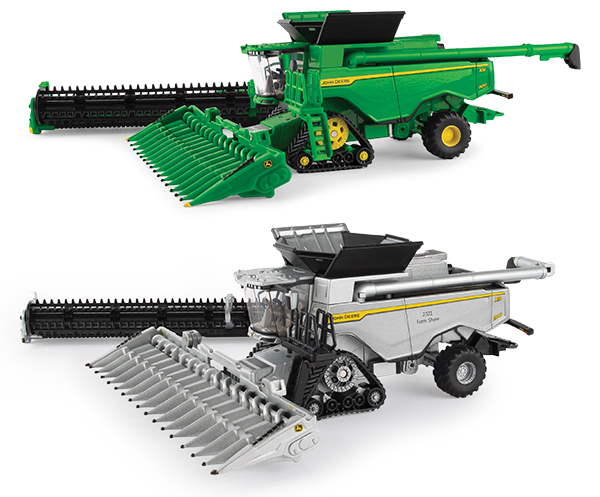 For Case IH farm show units we're featuring both a 1:32nd and 1:64th Case IH AFS Connect 620 Quadtrac tractors that celebrate special 25th anniversary graphics featuring a two-tone silver and red hood and rear chassis (Stock # for the 1:32nd is 44257OTP and the 1:64th is 44258OTP). Both units will have "chase" units that will be painted in a flat silver finish.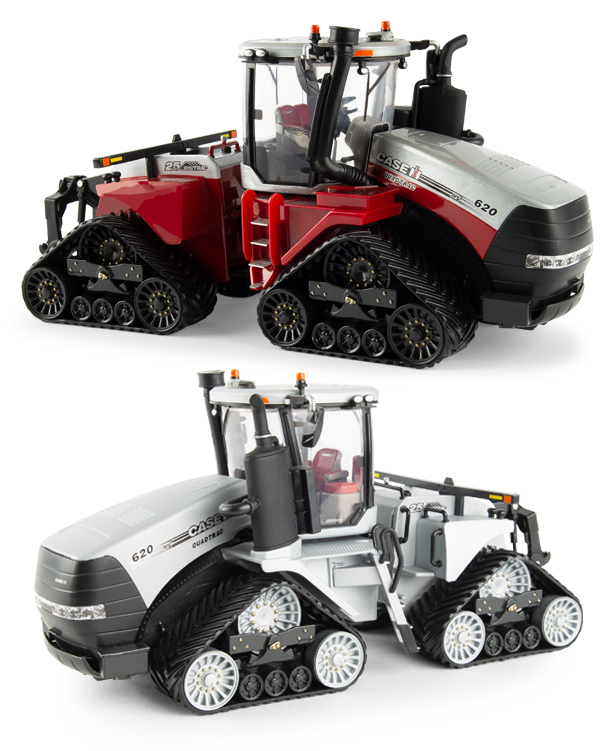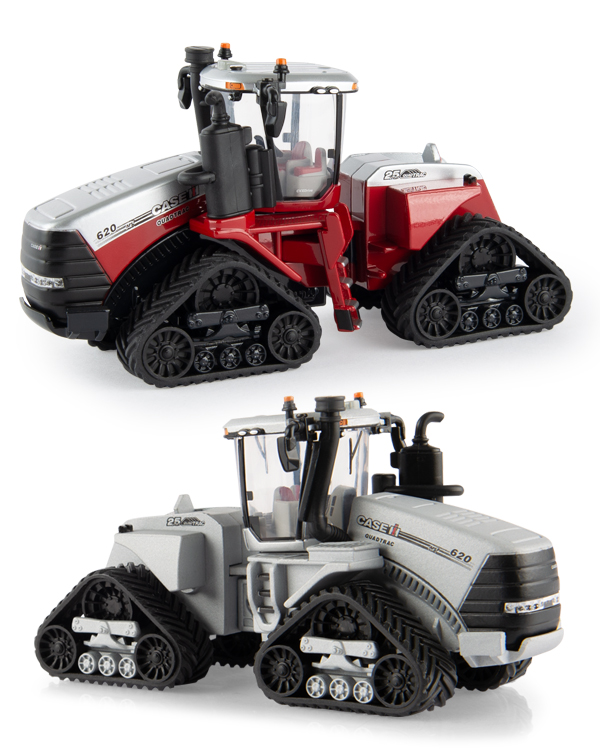 For New Holland the farm show unit will be a 1:64th T9.600 SmartTrax tracked tractor (Stock # 13964OTP). This unit will feature a special blue and white "chase" tractor that pays homage to some of the special paint schemes that Ford used on their "FW" series tractors. I have to find one of these for myself.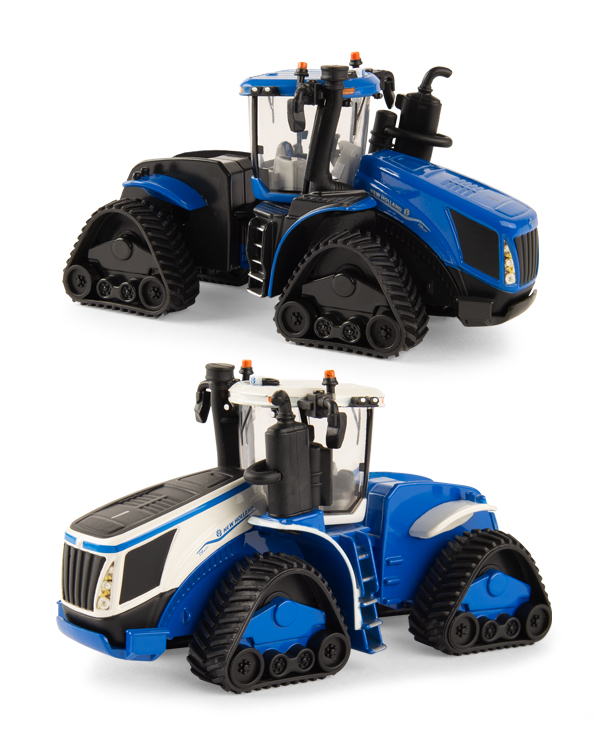 Other new 1:64th models that we'll be showing include a 1:64th Allis Chalmers 7045 tractor with rear duals and front diamond tread tires (Stock # 16426).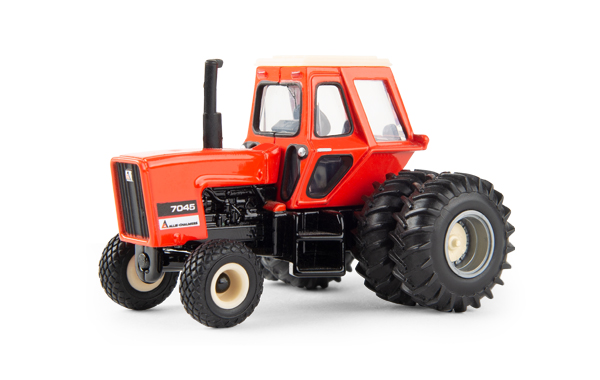 Another item is the 1:64th Co-op Implements Panther II tractor (Stock # 16425OTP). We are only producing 5,000 units of this tractor and it will include gold metallic painted tractors into the production run. Both of these tractors are available to pre-order through our outlet store here in Dyersville. We also have a Gleaner harvesting set in the works. More details to come on this.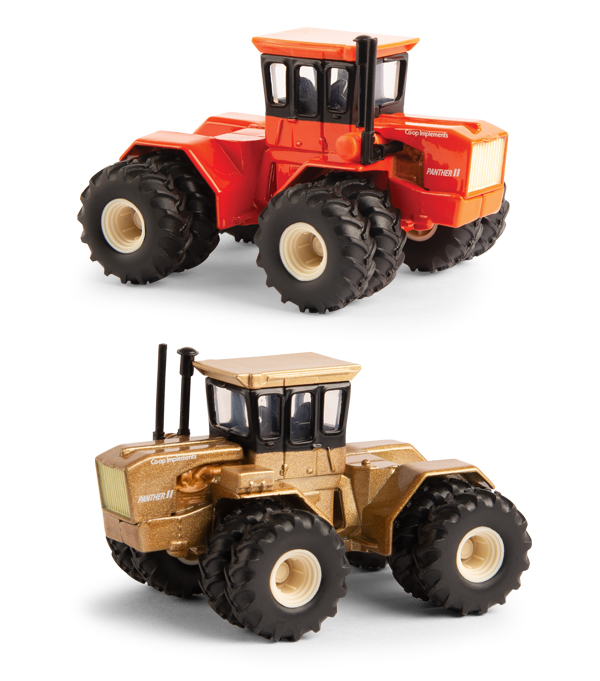 Last, but not least, we're also happy to announce we're producing a 1:16th Farmall 1206 with heat houser and rear duals for the National Farm Toy Museum (Stock # 44255OTP). This tractor will feature the early 1206 graphics, 3-point hitch, front weights, and more! We'll have a sample at the show for you to review.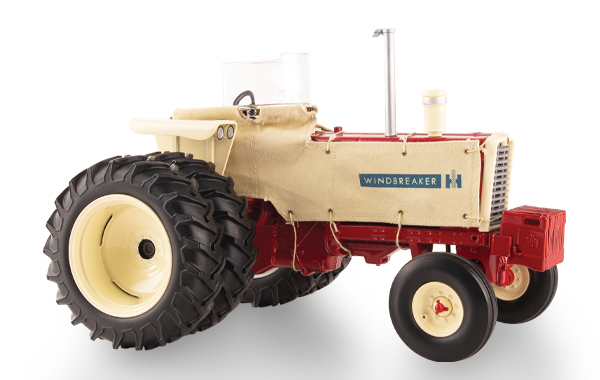 Keep checking on Facebook for updated information on the Summer Farm Toy Show, special announcements, sneak peeks and product updates.
Until next time,
Bill