ERTL Farm Toy Updates!
Greetings from Dyersville!
Where did 2021 go? Winter has been flying by. I apologize this blog has been delayed but this is very special blog for me. It's hard to believe, but this is blog #50. My first blog came out in 2017. Over the past 4 years I've introduced you to lots of new Ertl toys, as well as 3 grandchildren and other important events in my life.
Over this past year you've met many of the people who work on Ertl farm toys. There are hundreds more behind the scenes in various roles that you don't see. Here in Dyersville we have our HR, Customer Service, Consumer Service, Finance, Legal, IT, Logistics, Sales and other functions. We also can't forget our Warehouse team, Product Integrity, Marketing, Graphics, Engineering, Social Media and Inventory Management teams. To go even wider, we can include our teams in Europe, Australia, South America and Asia that all work together to bring you our Ertl products.
We are continuing our series of introducing you to additional members of the team. This month we highlight two members of the graphics team; Kendrin and Samantha.
Hey there!
I'm Kendrin Geerdes, a mid-thirty something wife, mom of two, Graphics Manager at TOMY and proud farm kid. I grew up on my family farm in rural Harpers Ferry, Iowa, went to college in Dubuque, got a job in Dyersville, married my best friend, had two babies, and built a house overlooking my family farm. That's me, below on the far end in the blue. Fun fact about this picture is that my sister, my sister-in-law, and I were all pregnant for it! We are blessed to have added 4 more kiddos to the bunch below.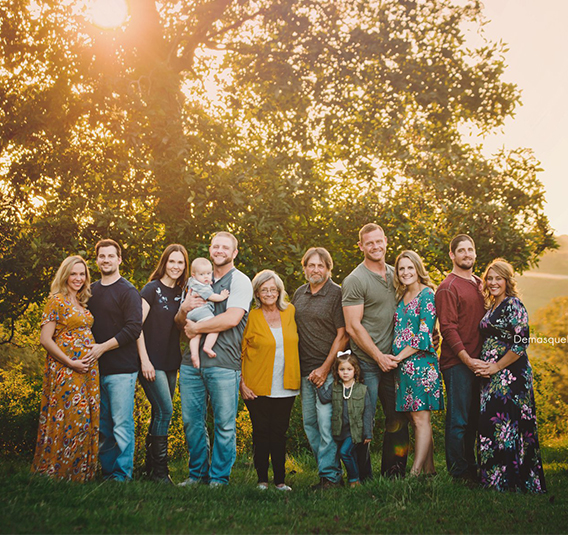 Let's back it up to growing up on the farm. In a tiny little corner of northeast Iowa, there's about 1,000 acres of land where Black Angus beef cattle roam, and the fields, when not covered in snow, are growing corn, soy beans, or hay. This is where my 3 siblings and I were raised and where we still call "home." While it wasn't always an easy life, it was a rewarding life and all of us love bringing our kiddos back to the farm in the spring to see the new baby calves and for a fall combine ride and inevitably, a combine nap.
I've loved art my whole life. Growing up you could find me re-drawing pages to my favorite story books, so it was no surprise when I graduated from Loras College in Dubuque, Iowa with my BA in Visual Arts. It was during my senior year of college that Bill Walters hired me as a graphic design intern for his AG and Vehicle team, and after graduation I was offered a full-time position. I now work with all of our brands at TOMY, but by far my favorite is the ERTL farm brand. I love working with toys that I grew up with and toys that my own kids love to play with.
During college I met my hubby, Ross. We dated long distance for 10 years before getting married. Ross works for our local county conservation board where he teaches environmental education in the schools and the communities. We have 2 kiddos, Sullivan and Wilder. Sullivan is the kind of girl that hops off the school bus and runs across the field in her high heels to find Grandpa for a combine ride before heading to her gymnastics class. And then there's Wilder: we named him "wild" hoping he'd be our "calm." The jokes on us, but goodness does that boy love the farm life. He knows more about machinery, crops and the farm than most adults. Sully and Wilder love spend their time outside being kids, and we love watching them have the freedom to run and play.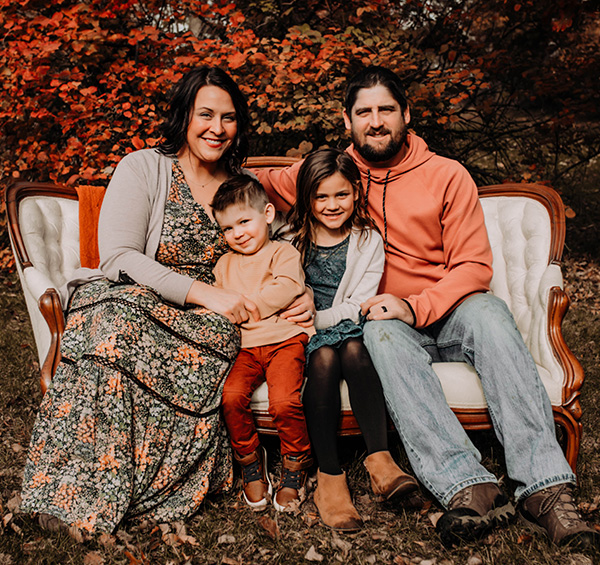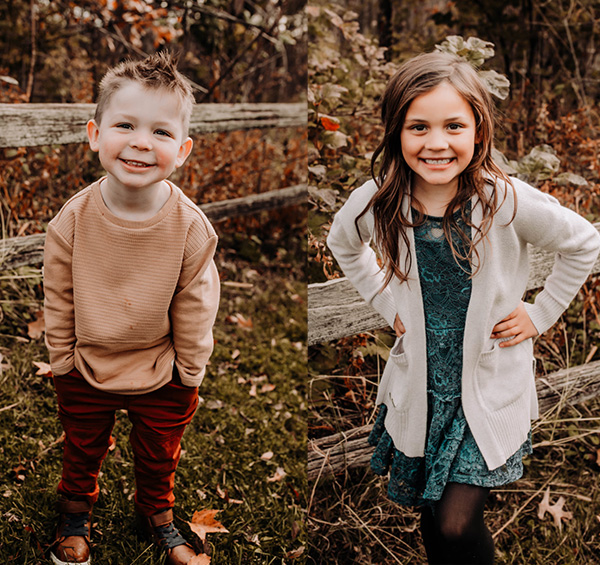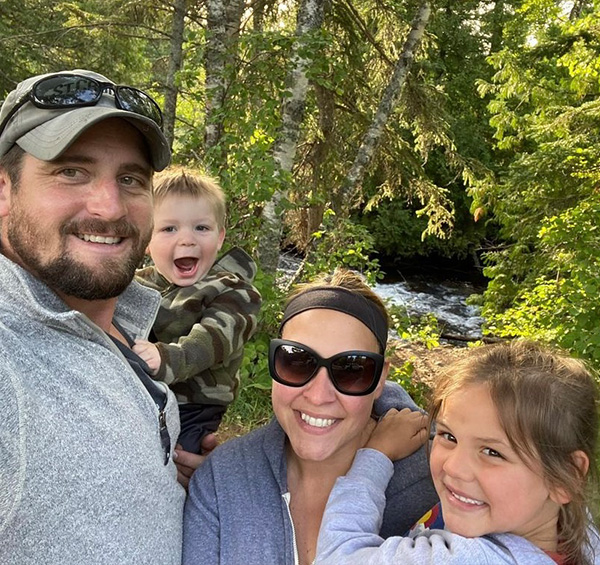 We enjoy spending our time camping, boating, playing together and exploring new places. When I get free time, I love gardening. Here's to ringing in 2022 with more farm toys!
Now let us introduce you to Samantha.
Born and raised in Hopkinton, I never thought I'd be one to settle down in such a small town; now I can't imagine life anywhere else. In fact, I decided to build my home and family in an even smaller town, Greeley, and I wouldn't change it for anything. My husband Devin and I have 2 little ones, Caiden (3) and Mila (1). We love to travel, though we don't do nearly as much these days. Our adventures have become much more local. We love hiking (if we can make it past the playground), camping and most of all digging. We are in a 2-year long digging phase but luckily I have access to the best digging toys around…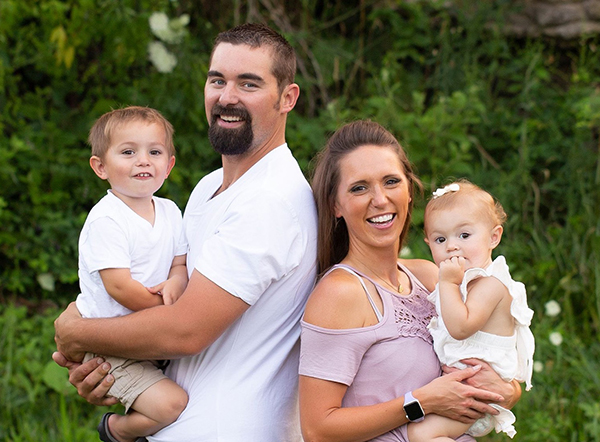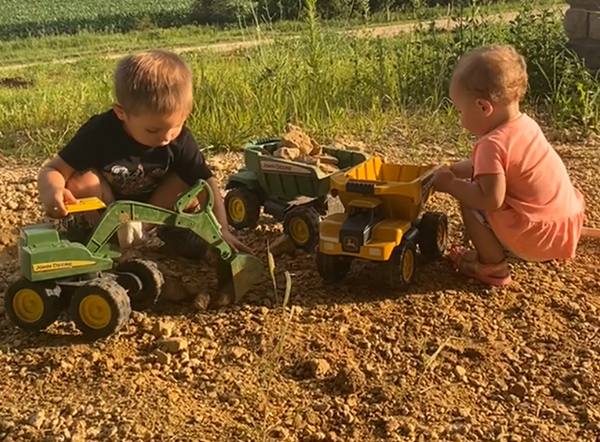 Thirteen years ago, when I began working in the "creative" world, I would have never thought I'd be lucky enough to find a job doing everything that I love: photography, videography & graphics. Needless to say, finding all that and working with toys… it's a dream come true.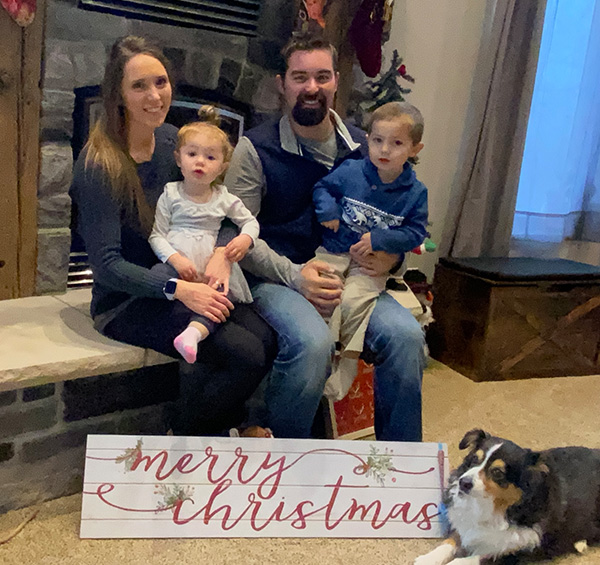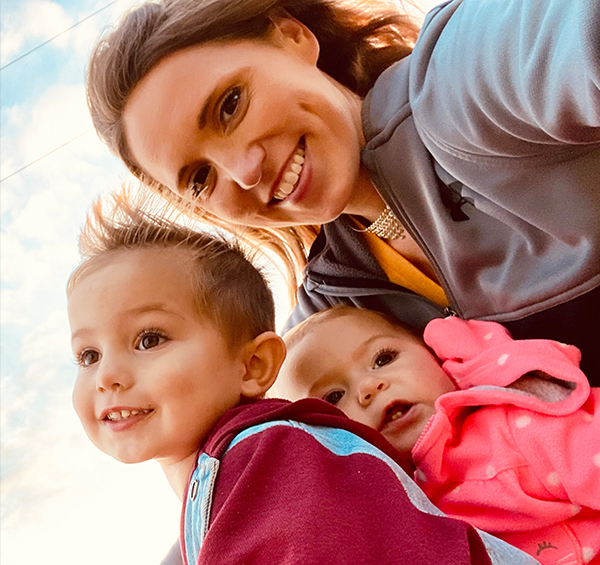 I went to college for Media Studies/Communication and began working in advertising right out of college. I was able to work for a company that offered me free range of media channels which allowed me to explore the advertising world where I fell in love with creating graphics and designing versus just capturing photos and video. This led to my next position in print media creating logos and advertisements which was fun for a while but I missed the photo/video world. TOMY offered me the opportunity to bring everything I've learned together as well as push me to constantly learn more. Also, it's an added perk that my kiddos think I work for Santa Claus.
Thanks for being a fan of the brand,
Samantha
Now, back to farm toy news!
I have so many new items to talk about. We can start with our new Versatile items. (Check out the Versatile flyer at www.ertl.com. ) First is our new 1:32nd Versatile 620. (Stock # 16429OTP) This features new tooling for the mirrors, cab interior screen and hydraulics detail. The new paint scheme and graphics really make it unique. We have also included 55 randomly inserted red chrome plated units to celebrate Versatile's 55th anniversary. This is a one-time production run of 2,500 units. Staying with Versatile we are also offering a 1:64th Wheeled 580 model. (Stock # 16430OTP) This features the updated graphics and paint scheme and will have 55 randomly inserted red chrome plated units and 500 randomly inserted "muddy" units. We are also doing this for the 1:64th DeltaTrack tractor. (Stock # 16431OTP) Both of these are one-time production runs of 5,000 units. These can be found at your local Versatile dealers, available in early 2022.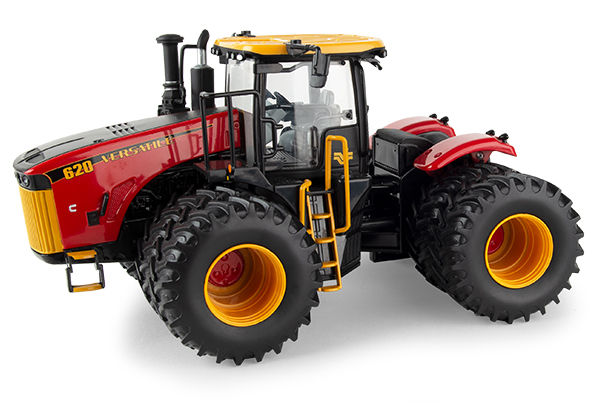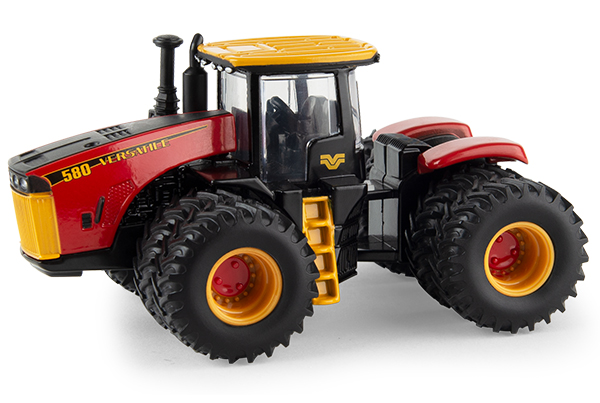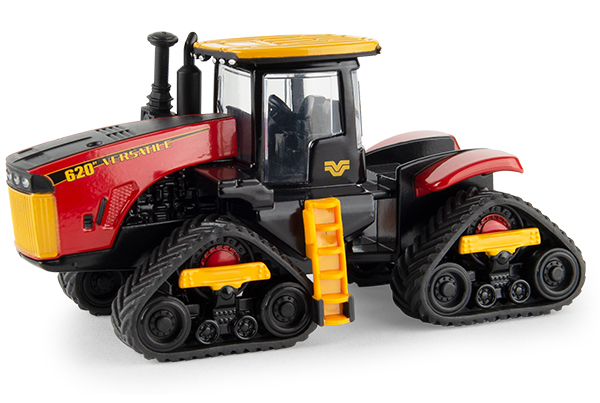 Let's switch over to Allis Chalmers. We have a few new announcements that were introduced at the November show. First is our 1:16th Allis Chalmers 440 tractor with duals. (Stock # 16432OTP) 2022 is the 50th Anniversary of the introduction of the 440 from Allis Chalmers. Produced by Steiger, this tractor has many features of the Wildcat/Bearcat models, but with some changes requested by Allis Chalmers for the hood/grille. Our model features new "bolt-on" dual detail as well as the later paint scheme which features a black grille with revised logo, and new graphics. This unit is being offered through the Toy Farmer as well as our Ertl Outlet Store. (Check out the flyer at www.ertl.com. ) This is a one-time production run of 2,500 units and will be available in August 2022. Staying with AC, we also announced the 7080 pedal tractor. This is one of the first pedal tractors in our new "Ertl Limited" series. These new pedal tractors feature newly tooled die cast front axle, tie rod, seat and steering wheel along with steel front rims. This is a one-time production run and we are currently finalizing the quantity. (You can see a flyer for this on our Ertl website as well.)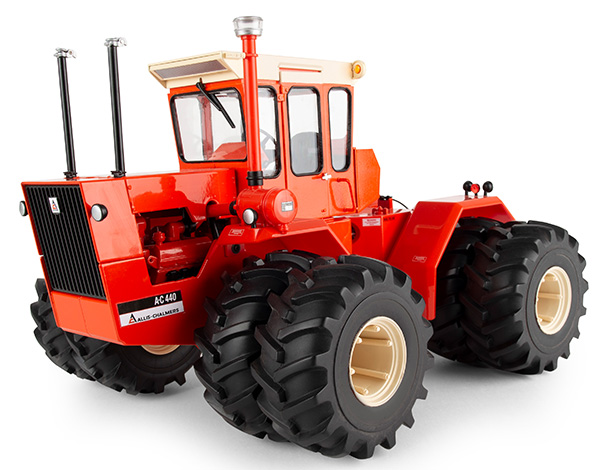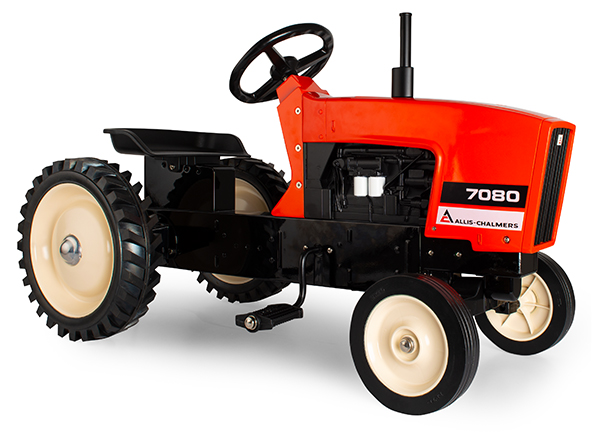 Lastly, I'll highlight a few new items we have coming out for John Deere. You can see the new 2022 John Deere on our website. (There is also an additional "Sneak Peek" flyer where we introduce some new units that will not be in the catalog.) One of these is the "Two Cylinder Club" tractor for 2022. This year we are producing a 1:16th scale 4430. (Stock # 45831OTP) 2022 is the 50th anniversary of the "30" series tractors. What's unique is that we are offering this model with a narrow front axle and Soundgard cab. This tractor also features individual front weights, opening cab door and 3-point hitch detail. This is a one-time production run and will be available in summer 2022. We also announced our new 1:32nd scale John Deere X9 1100 combine. (Stock # 45828OTP) This is all new tooling and is being offered with a special "75th Anniv." graphics which will be on each side panel. This "Prestige" model will feature front duals, pivoting rear axle, an opening right side body panel with drop down ladder and many additional features. It will also include a C16F corn head and HD45R draper head. Since we're celebrating the 75th anniversary of John Deere self-propelled combines we will also have 75 silver painted combines randomly inserted into the production run.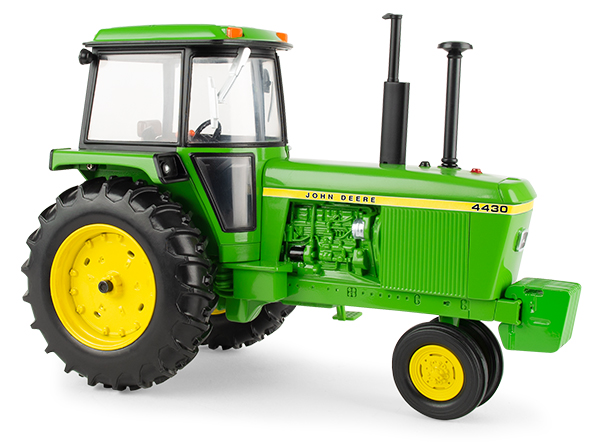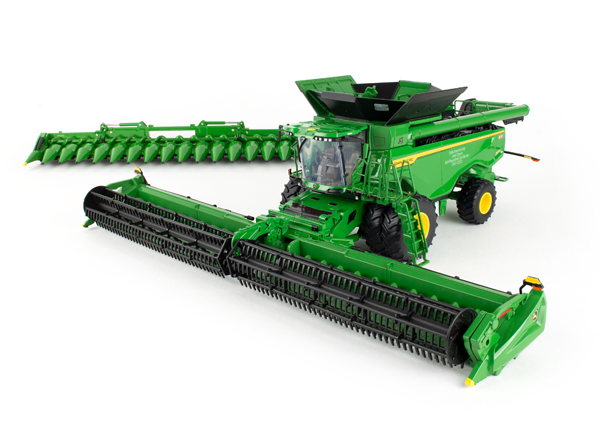 Last, but definitely not least, are new 1:16th John Deere 9RX and 9R 620 tractors. (Stock #s 45766OTP and 45767OTP) These new Collector units will be available in the summer of 2022 and feature opening hoods, opening cab door, revised exhaust and air cleaner detail, front weights, mirrors and railings.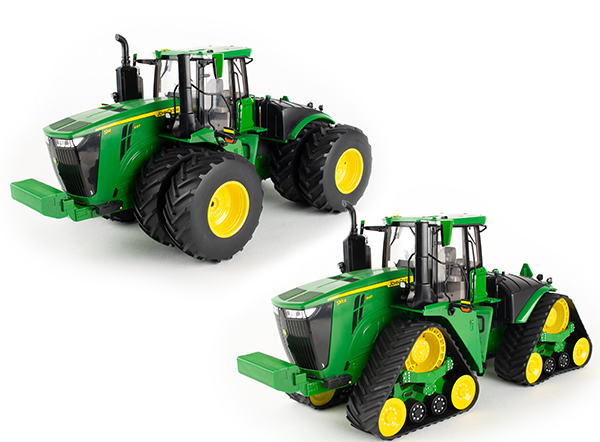 My next blog will feature additional new John Deere items along with our new 2022 Case IH and New Holland items. We also have some additional new surprises in store.
Until next time,
Bill