Greetings from Dyersville!
Welcome to July. It was a hot June in our neck of the woods, and with hardly any rain the crops were starting to suffer. In the last two weeks the rains have finally started coming. It's amazing how fast things can "perk up" after a good shower. I've been behind on my garden and finally got the cucumbers, pumpkins and late beans planted.
My wife and I were able to sneak away for a week of vacation in California. I've been to California several times over the years, but always around LA. We've always wanted to see northern California so we decided to fly into San Francisco and head north. Along the way we had to look at the giant redwood trees, and made it as far north as Eureka.
On our way we stopped in the town of Ukiah. Just off the main road I spotted something I had never seen before in person, a grape harvester. I never realized how large these machines were. At some point I want to see one of these in operation. I guess I need to plan another trip back there.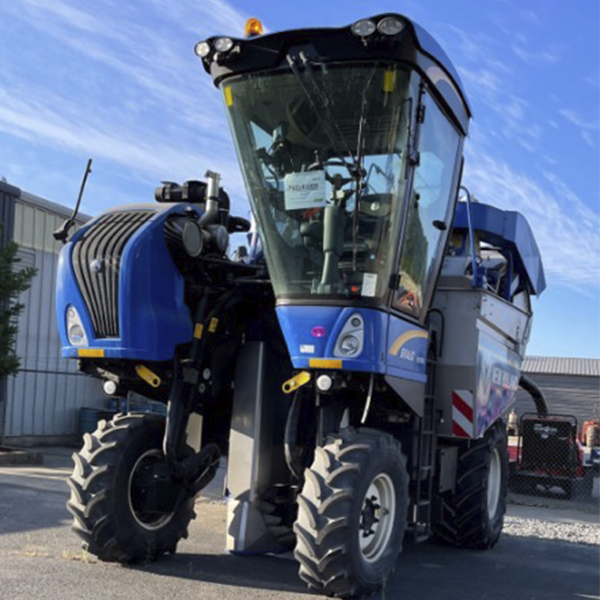 When I was young my dad logged in the winter months, primarily hard woods such as walnut and oak. We had a small Case 310 crawler with a winch that he used to pull the logs out of the timber. I loved listening to his logging stories about trees he cut down and the people he met. Here's a picture of him standing beside our Case 310. It was used for more than just logging, with the bucket on the front we used it to clean out the barn, move rock and just about anything you would use a loader tractor for including snow removal. On the subject of dads, I hope everyone had a wonderful Father's Day!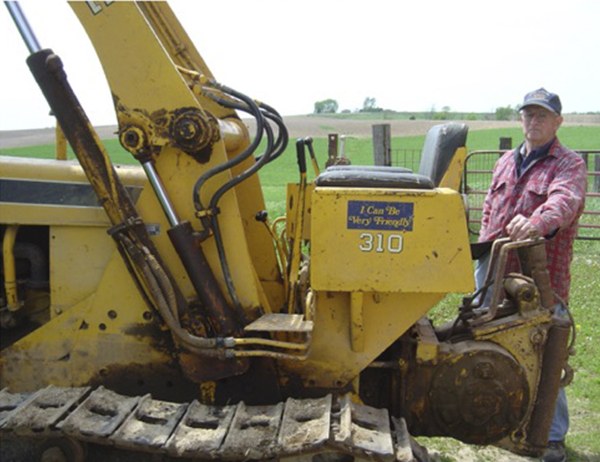 On the other hand, the equipment they have to work the huge timber lands of northern California is quite different. Here is a unit I found up by Eureka. It's seen better days but I bet it can still get the job done. Although there are limits to everything.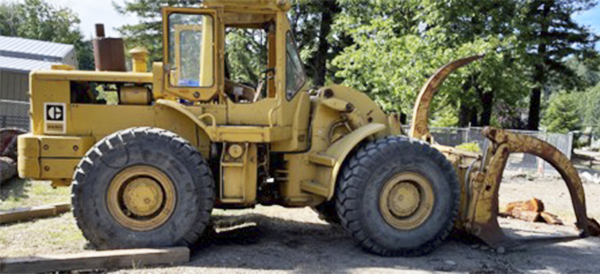 When you get trees this size, it would take some specialized equipment to move them. Redwoods are now protected from cutting. Most of the roads in this area had to be built around these giants. I don't envy the truck drivers trying to drive through this area. I can honestly tell you there is not a lumber shortage. We saw more trucks loaded with lumber than anything else. Hopefully lumber prices start coming down later this year!!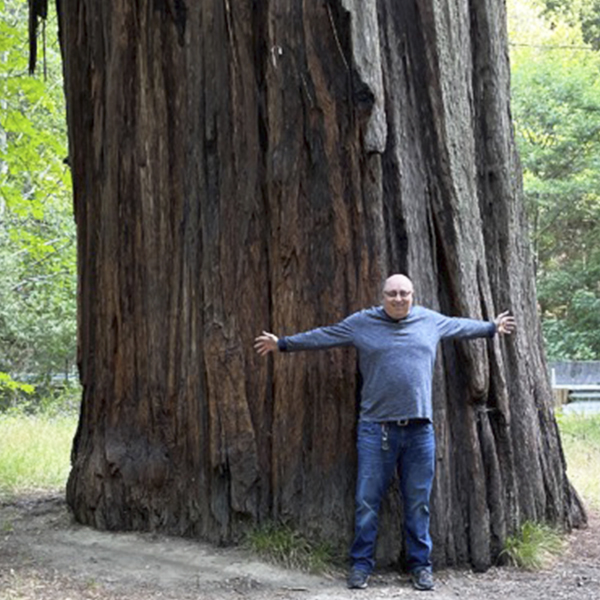 Before we get into new product, we're continuing our series of introducing you to members of our team here in Dyersville that make all of this happen. This time we're highlighting two of our Brand Managers.
Hello, my name is Jen Wulfekuhle and I'm a guest blogger this month. Today I'll share how I started my career in the toy world 21 years ago, a little background about my family and how farming has influenced our lives.
It all started when I was a little girl in the 80's growing up in Dyersville, Iowa. We lived near the ERTL Company and while passing by I would often tell myself, someday I am going to work there. I knew they made John Deere tractors and Smurf cars (which I still own) so therefore it must be a fun place to work! Ah yes, the simple thoughts of a small child.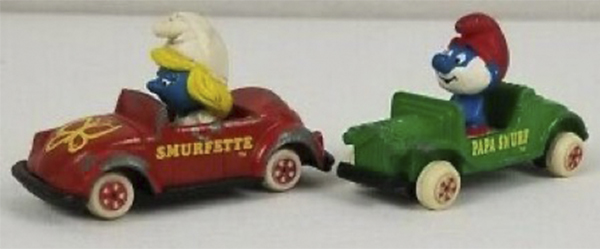 After graduating college it was tough finding a job and I ended up selling insurance door to door for 6 months, ugh, not too glamorous. I wanted to quit almost every day but luckily I stuck it out because a company I was selling insurance to ended up hiring me on the spot. Jump ahead 4 years and wouldn't you know it, I saw an open position at the company I set my sights on as a little girl in the 80's.
Over the last 21 years with the company I have been fortunate to work with many amazing people in several departments, but I have to say, managing John Deere Preschool the last 6 years has been my favorite.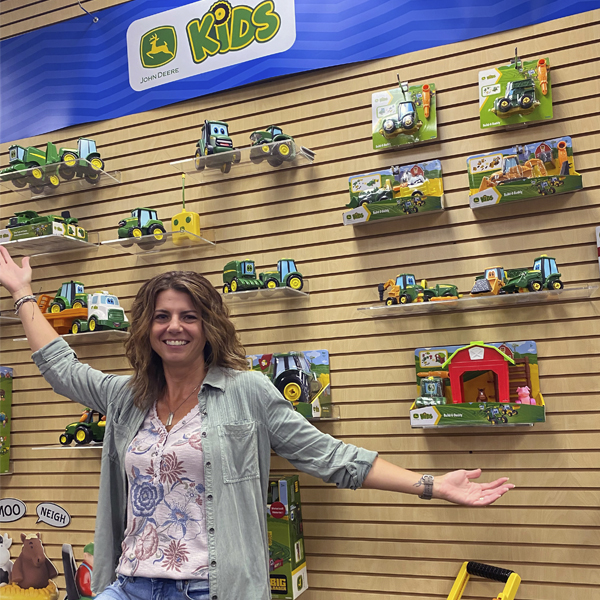 So what do I know about farming you may wonder? Well not too much in the direct sense but my family is no stranger to farm life. My Grandfather, a proud veteran of WWII, built this corn crib on his farm outside of Holy Cross, Iowa back in 1964. If you look close, you can see him on the roof with a paint can. My father was born and raised on this farm until he entered the Army Reserves. And guess what, from 1971-1975, he actually worked at ERTL too! My mother grew up on a farm as well, her father also owned and operated a saw mill near a little town called Bernard. I think little towns and beautiful farms are what make Iowa so great!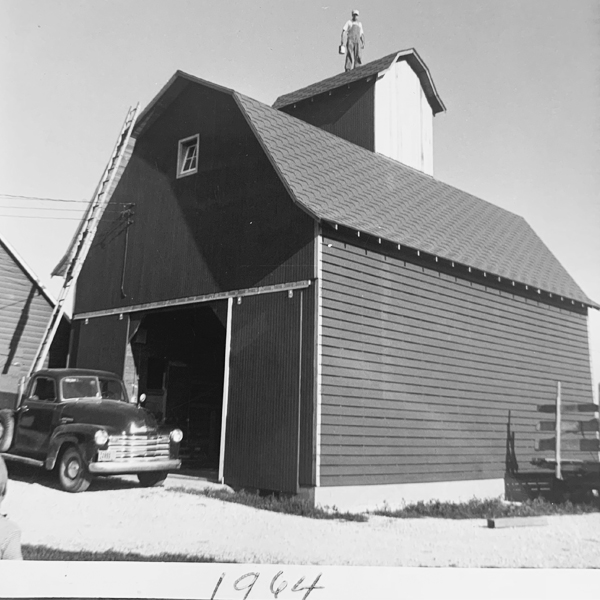 My husband grew up milking cows near Petersburg, his parents have since retired from milking but continue to crop farm and show no signs of slowing down, even at the age of 81 and 84! We ultimately chose a different career path but fortunately have stayed connected to their farm over the years. We were blessed that our 2 boys had the opportunity to experience this way of life as they grew up. Helping feed calves (or falling asleep in a wagon during milking) or riding along in the tractors and chopper.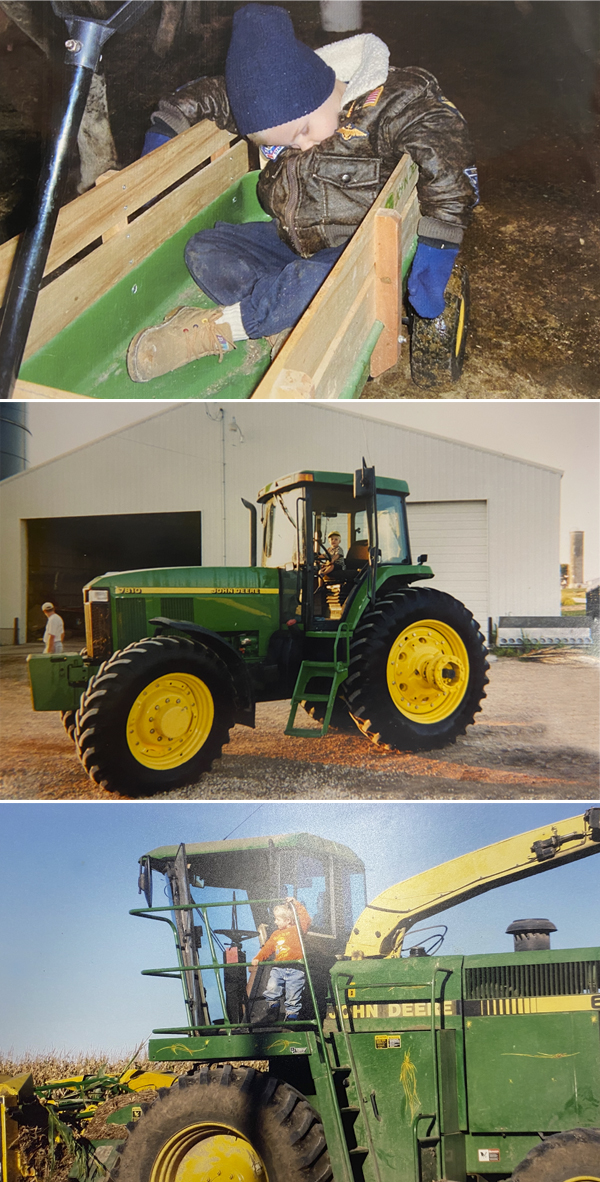 Speaking of our boys, Evan is majoring in Civil Engineering at the University of Iowa. Nicholas will be a Junior, he just made his confirmation this past Sunday and chose his brother to be his sponsor. Getting boys to take a family picture is near impossible, they were more than ready to get these ties off.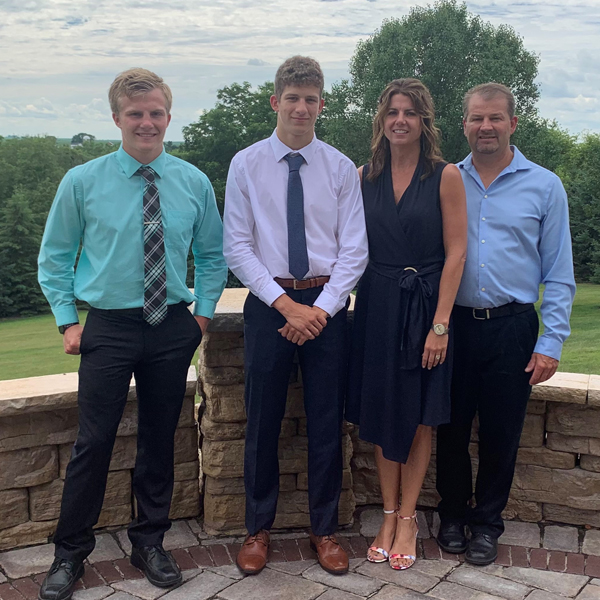 My husband owns and operates a landscape and lawn care company. We love traveling, boating and watching our boys figure out their path in life.
Well, that about sums up my little corner of the world. Living in small town Iowa may not be fast paced enough for many, but for us, it's just about right and I wouldn't want it any other way.
I hope you all enjoy watching the little ones in your life playing with their first John Deere preschool toys! Rest assured, we'll continue to develop more great products so we can help make the world smile just a little bit more!

Jen – Brand Manager of John Deere Preschool, Sandbox Toys and Games
Greetings from the farm toy capitol of the world; my name is Travis Hoy and today I will be guest blogging on behalf of the Ag and Vehicle team here in Dyersville.
Before I get started, I hope everything is well with you and yours; I know here in the Midwest we sure could use some rain (for the farmers and my beloved lawn – we'll get into that later).
So I've worked with Bill Walters for over 20 years now (time flies when you're having fun)! I've worn many hats with TOMY including marketing, product development and brand strategy creation. It really is a dream job as I remember writing in my 1st grade scrapbook that I wanted to be a 'toy maker' when I grew up!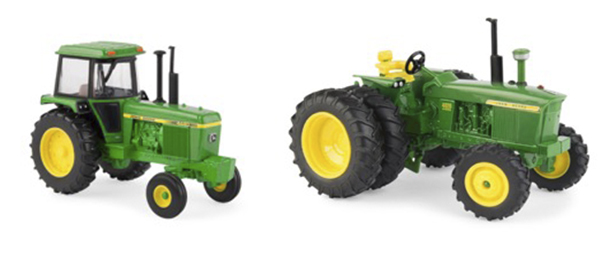 I have to admit everything I've learned about farming and tractors has come from my time with TOMY despite the fact that I've lived in Iowa since I was born. Before 2000, I had no clue what an anhydrous applicator was or the difference between a John Deere 4020 and 4440 (both are my favorite old school tractors by the way). I enjoy living in the country and with that comes a decent sized lawn that I love to maintain and mow! I take care of my own thatching, aerating, spraying and of course; mowing! It's a tough time for the lawn right now because we are in a moderate drought and I'm trying to keep the lawn green (which means no mowing for a few weeks).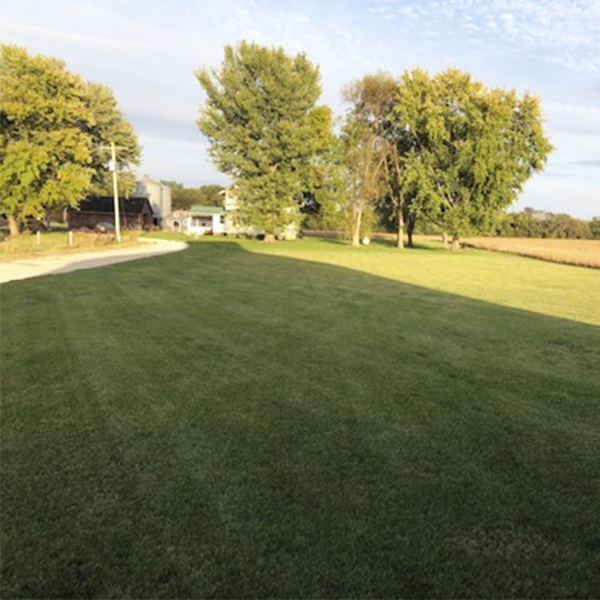 This past winter I became frustrated with all the snow and drifting that I finally traded in my X320 for a 'new' used X590 that came with a 47" snow thrower (yah!) and power steering (a total dream to have)! It even came with a push bar that I can use for herding cows when they get out of the pasture.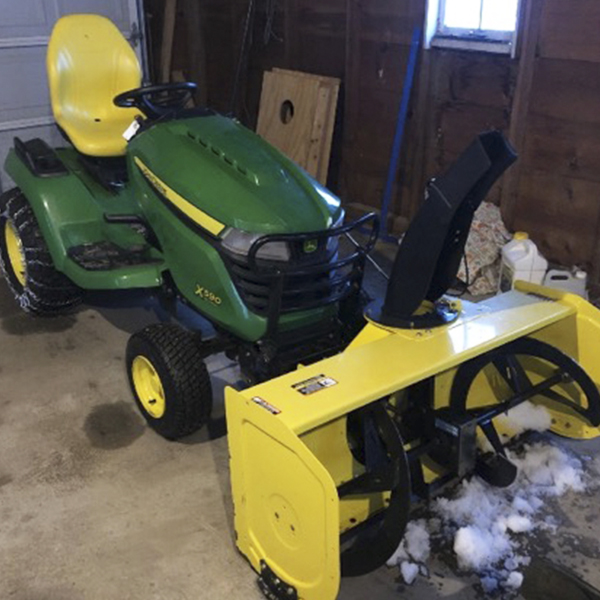 The only downside to living out here are the bugs and weird creatures roaming around! Check out this giant 'dinosaur-looking' snapping turtle that was in the yard the other day! At first, I thought it was a piece of the tree that fell on the ground but then it started to move! I wonder how old he/she is.
Some snapping turtles can live up to 40 years old (I had to google that). I'm super glad I survived the encounter.
Another hobby I have is sneaker collecting. I am a huge Michael Jordan fan and I have fond memories of watching the games with my dad back in the 1990's. It's been fun and rewarding to watch some of MJ's memorable games with my two sons. I try to collect the sneakers that I remember Jordan playing in. In a way, I feel like I'm reliving my childhood which is a big reason why folks collect the things they do.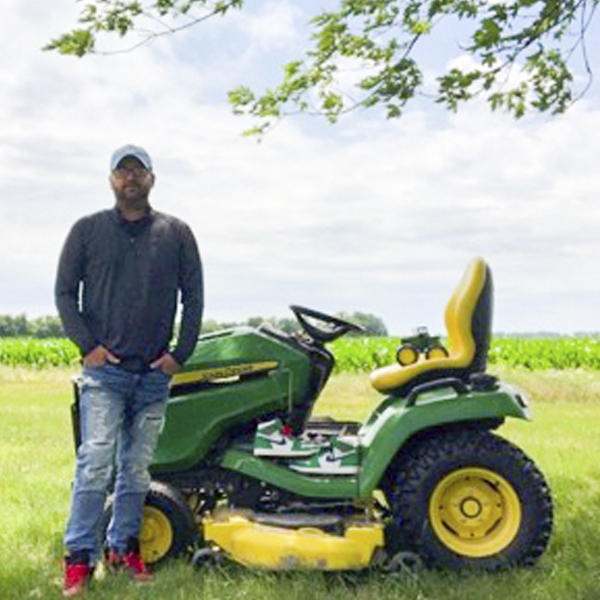 With that, I wish you the best in whatever you collect (ERTL die cast or otherwise), stay healthy, and enjoy the rest of your summer!
(and watch out for the giant turtles roaming around)
Let's talk about some of our newer items we have coming out. First up is a new 1:64th AGCO set which includes a Gleaner A86 combine, Challenger MT975E 4WD tractor with duals, J&M grain cart and a grain semi (Stock # 16420). The A86 includes a 12-row model 3000 corn head and a 30 foot, model 8200 flex auger head. The A86 also features dual front wheels, mirrors, railings and a moveable feeder housing. The J&M grain cart is painted yellow to match the Challenger tractor which is a first for us. This item should arrive in July, so be on the lookout at your local AGCO dealer, or wherever you buy your farm toys.
Other new items we showed at the Summer Farm Toy Show include the 1:32nd New Holland T8.435 SmartTrax Tractor (Stock # 13944) and the 1:32nd Case International vintage 4894 Prestige Tractor (Stock # 44273). The New Holland T8.435 features the special "Blue Power" paint scheme that includes silver rims and silver hood screens. The Case International 4894 Prestige model features the "red" paint scheme that these tractors had after the merger between Case and International Harvester in 1985. Our model also includes steerable axles with duals and a detailed 3-point hitch. Both of these tractors will be available later this fall at your local New Holland and Case IH dealers.
Last but not least, we've also been busy tooling up some new 1:64th scale pickup trucks. The first pickup coming out is our Ford Ranger XLT (Stock # 47168). These pickups are starting to ship now and will be offered in both a blue and red paint scheme. Next up is our new Chevy Silverado 2500HD assortment (Stock # 47167). We will offer this pickup in both a black or white paint scheme. These new pickups are also available now. We can't forget RAM, so we've also tooled a new 3500 dually pickup. (Stock # 47169) The first colors produced include units painted in white and blue. Look for these new trucks to be available in September.
Until next time,
Bill