Greetings from Dyersville!
I can't believe it's the end of September already. August was a busy month, including a trip to the Iowa State Fair. There are a few things I have to do when I go to the fair, including see the "Butter Cow" and checking out the livestock and FFA tractor displays. The biggest Bull, appropriately named "Little Bill", didn't like getting his picture taken. That's OK, I don't necessarily like my picture taken either.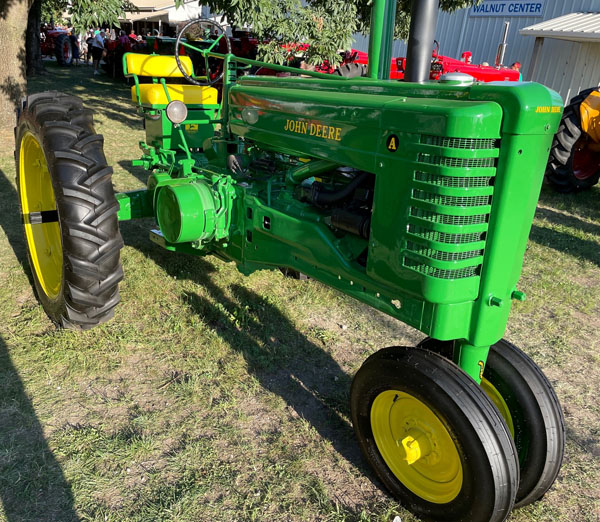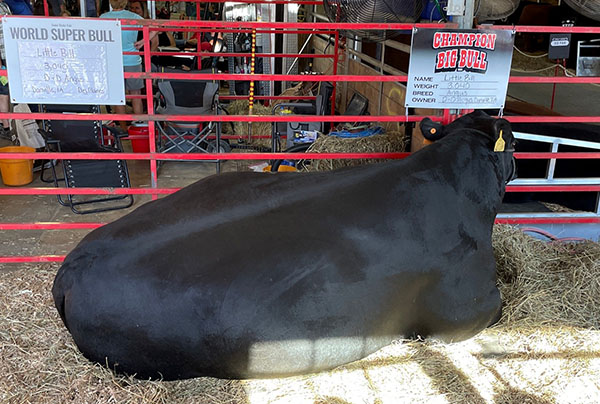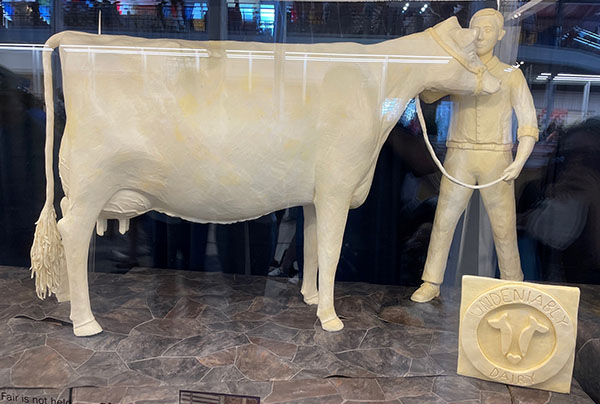 I got a late start with my sweetcorn this year, so I went with a shorter maturity variety. Of course, just when it was ready we got a windstorm. As you can see I still got enough to have a few meals.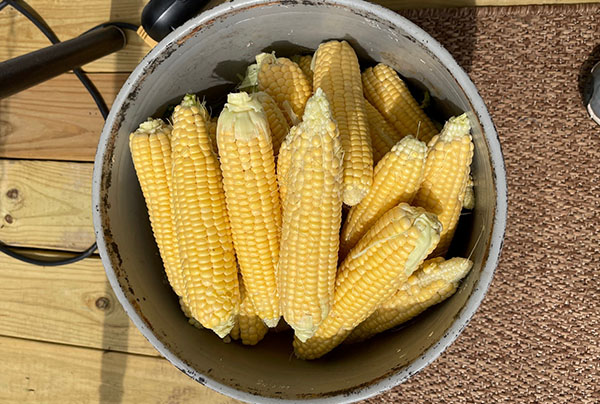 The field corn on the other hand was really hurt by our hot and dry summer. Here's a picture of a couple ears I pulled from the farm sitting by our 1:32nd Case International 4894 tractor. The ears are definitely smaller than usual.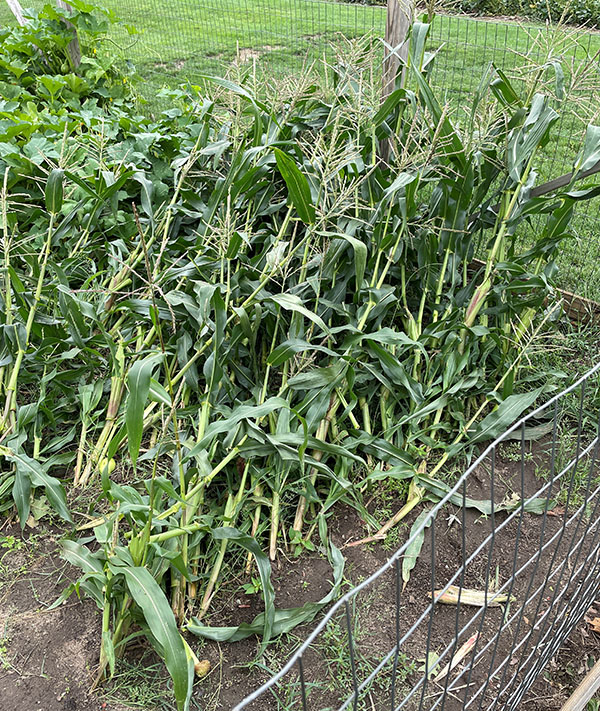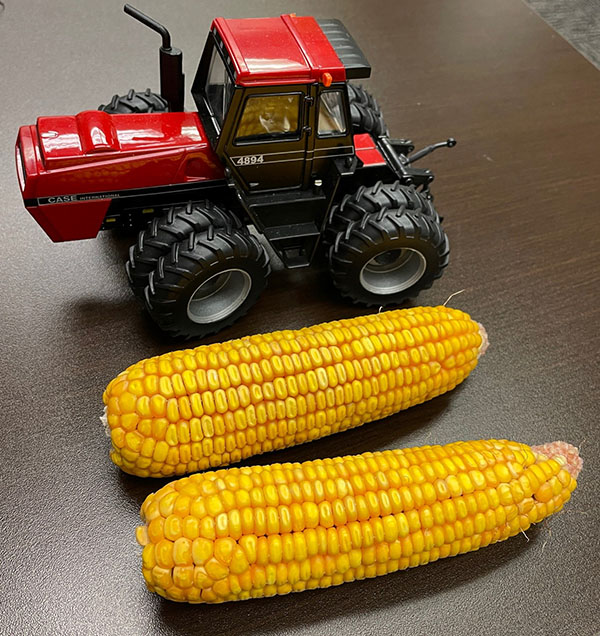 Before we get into new product, we're continuing our series of introducing you to members of our team here in Dyersville that make all of this happen. This time we're highlighting two of our Designers, Chris Huisman and Jeremy Shank.
Hello farm toy fans, Chris Huisman here. I'm a Design Manager on the Ag and Vehicle Team. Born and raised in Iowa, I spent most of my youth in detention or raisin' a ruckus like any good small town boy should (don't ask me about the dead horse). I was not too keen on the idea of walking beans, de-tasseling corn, or shoveling pig manure for the rest of my life, so I set my sights on the USMC for a hot minute before quickly changing my mind to pursue my true passion; art. I studied at an art studio in Chicago and worked as a concrete laborer and as a garbage man to pay tuition, which also awoke another passion of mine; Interesting Junk. In the 10 years of living in Chicago, I got married, worked at a major food company editing packaging nutritional information, managed a team of super talented model makers at a pewter manufacturing company and, finally, miraculously landed a dream job at a die cast toy company in 1997. During that time span my wife and I had some amazing kids that still blow my mind, all before moving back to Iowa in 1999 to continue on as a toy designer for this amazing company and working with some truly amazing people from all over the globe here at TOMY International.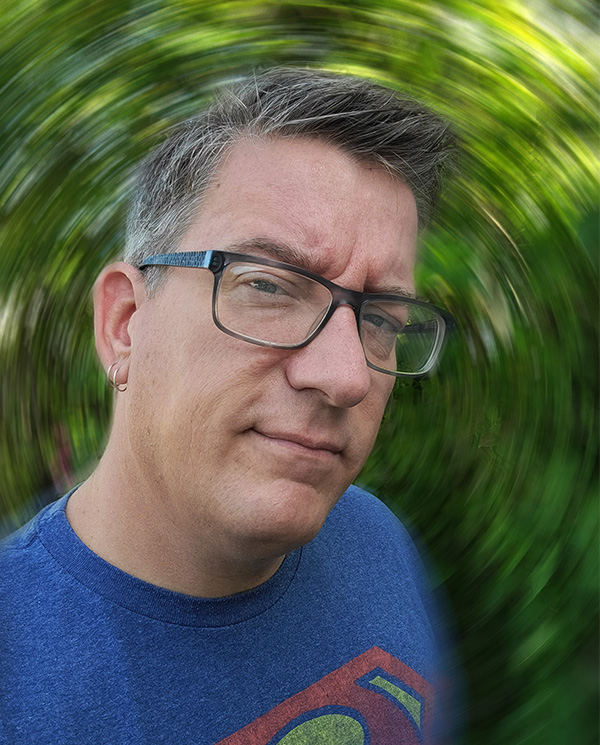 In my spare time I like to drink quality beer at a fantastic local brewery, create things in my cluttered workshop, do a little gunsmithing, play video games online, collect WWI and WWII militaria, and ride my custom rat rod motorized bicycle noisily through the quiet countryside of eastern Iowa. I've owned 30+ vehicles thus far, including a 1966 Chevy Suburban, a 1967 Plymouth Fury, a 1949 Chevy Panel Truck, a 1974 Mercury Comet (R.I.P.), a 1980 Dodge PowerWagon, a 1988 Dodge Ramcharger, a 1998 Dodge Dakota painted to look like Boba Fett, and my latest project car; a bright yellow 1977 Chevy El Camino MFP inspired cop car. I also like to paint and sculpt, often doing strange and fun commissions for clients.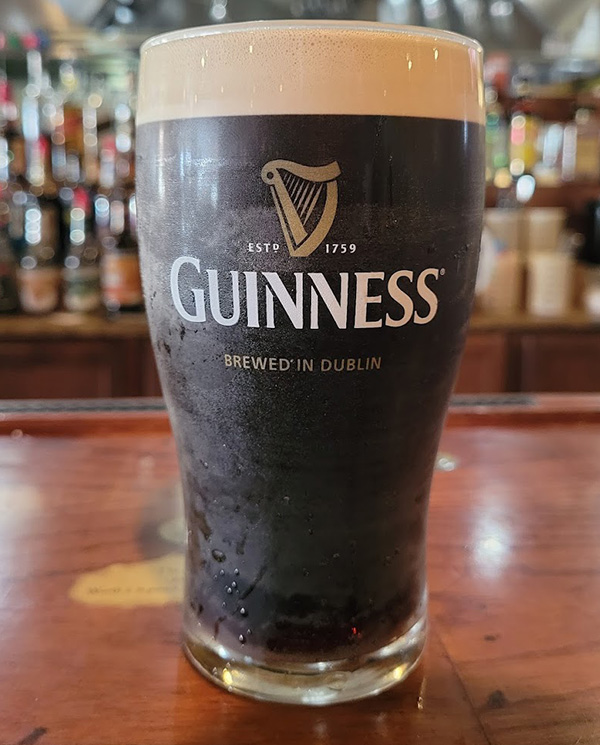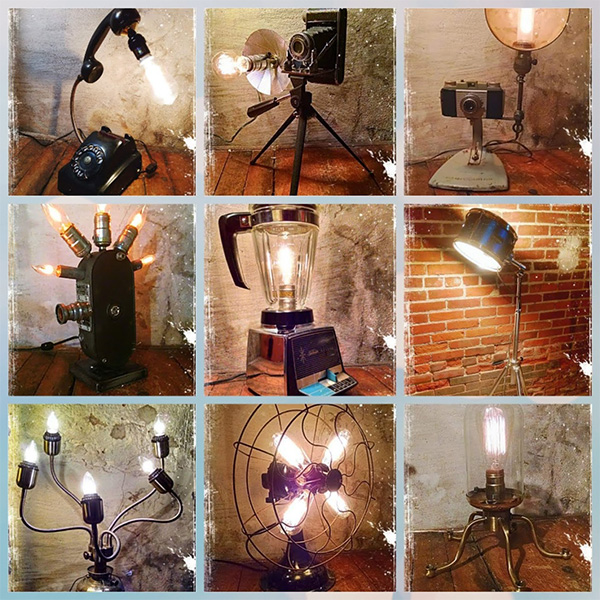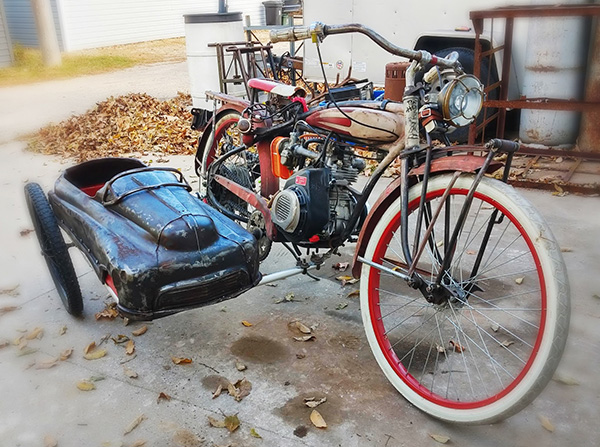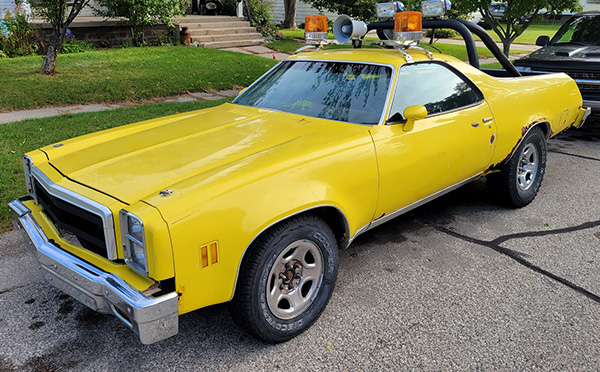 I absolutely love my job and nothing makes me happier and feel more satisfied than seeing children play with the toys I've had a hand in creating over the past 24 years. I've always considered myself a boy trapped in this strange old man's body, and you'll often find me scouring the toy aisles for new things and playing with all of the little kids at family reunions. There's nothing better than watching a kid's eyes light up at a new discovery and seeing their brains work something out.
The job description is what intrigued me to work for this company, but the atmosphere and co-workers really make this gig worth sticking around for. Thanks for enjoying the products that we enjoy designing!
Chris
What would make me, a guy that grew up in the hot swamps of Florida, want to move to the Midwest? A life-long love for toys that stemmed from my grandparents of course! My name is Jeremy Shank, I'm an artist and Product Designer here at TOMY International, working with Bill's team on Ag toys. I work on brands such as Monster Treads, John Deere Preschool, and several others as needed. My love for toys started at a young age, all the way back to when my grandmother would bring old toys out of the attic from a job she had assembling toys at a factory in Aurora, New York.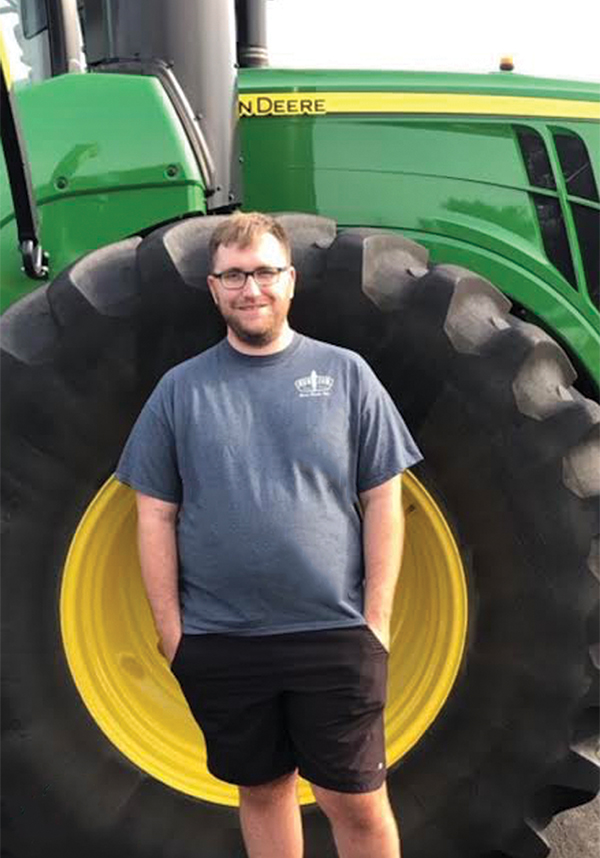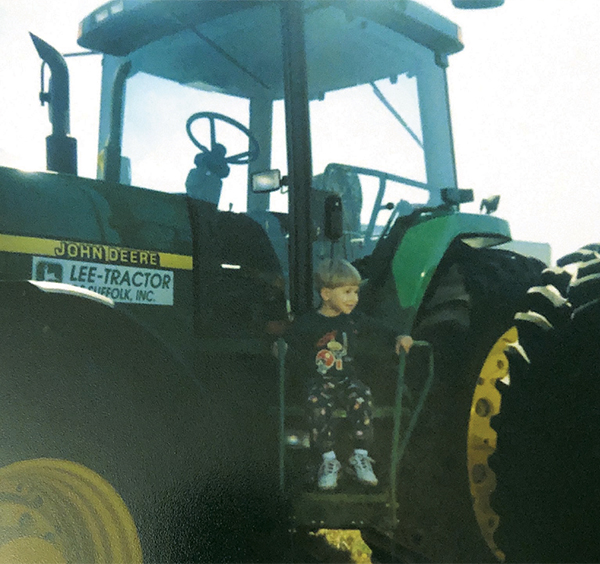 After I graduated art school in 2017, I wanted to put my drawing skills and ideas to the test, and turned to a career in product development. I found many opportunities, but developing toys for the vehicle team at TOMY seemed to be a perfect fit. I drove over 1200 miles with everything I owned in the back of my truck to get to Iowa, and the rest is history. I still get back to Florida in the summer and holidays, and my family loves to hear about the newest items I am working on.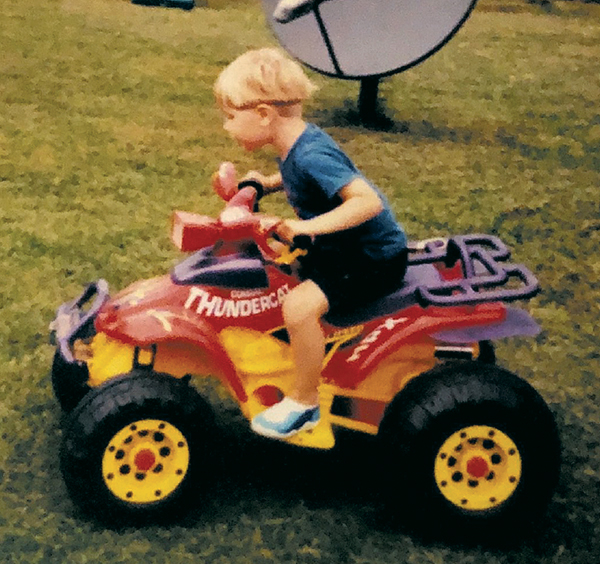 Since living in Iowa, I have gained some amazing friends who share similar interests to mine. I've traveled to several different places with them that I never thought I would go to, and I even have a few buddies that compete in competition BBQ events. I always show up to help them during these events (but mostly just to sample the food).
It's safe to say that I've landed at a pretty awesome job with an even better team of people, and the opportunities to help develop and design toys for all generations of farm toy collectors is amazing! I hope you enjoy our products as much as we enjoy producing them for you and your families!
Happy Collecting!
Jeremy
Back to Farm Toy News…
A few months ago I mentioned that we were tooling a 1:64th Claas Xerion 5000 tractor (Stock # 16413OTP) for the National Farm Toy Museum. This unit features movable axles, 3-point hitch and a cab that can pivot between the front and rear of the machine. I believe this is the first tractor we've ever produced in 1:64th where the cab moves. In Europe we also currently offer a 1:32nd model of the Xerion 5000. (Stock # 43246) In addition, we've recently announced a 1:32nd Claas Jaguar 980 Self Propelled Forage Harvester. (Stock # 43285) This will be coming out later this year, along with some additional items. Watch for more information in my blog about bringing these units to North America. Britains continues to celebrate their 100th anniversary of producing farm toys with a special commemorative coin. You can check out the other new items that Britains has coming out at the following website "Britainsfarmtoys.co.uk."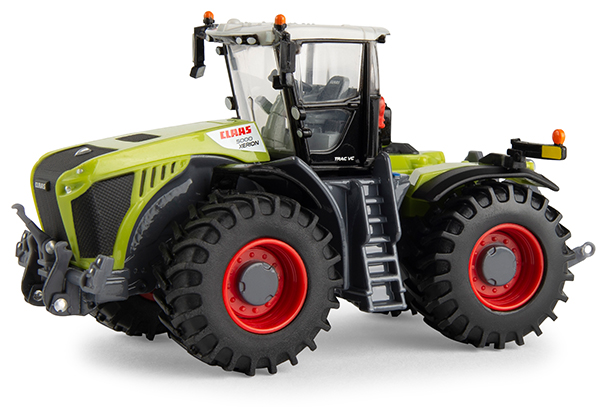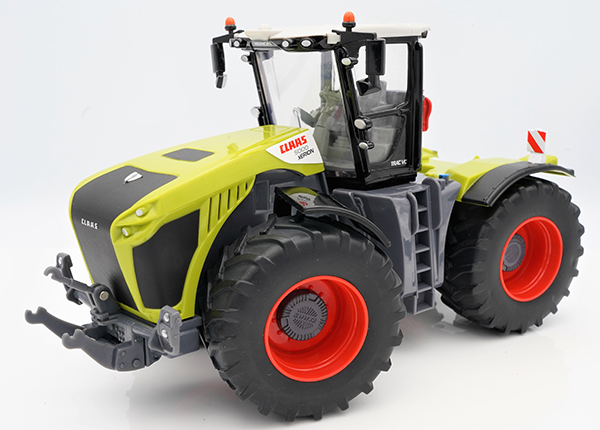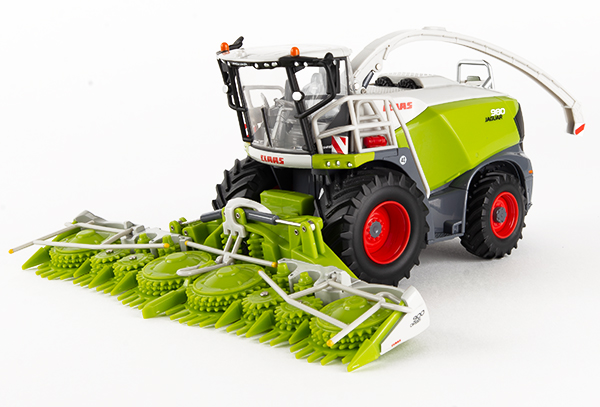 Until next time,
Bill